This is my favorite whole grain sourdough bread recipe. Before you go for this recipe,
try the white sourdough bread recipe first. It will help you to learn the basics more easily.
For me, it is still astonishing how you can produce whole grain sourdough bread using your own generated culture of bacteria. Basically, this culture of lactobacilli and yeast is just fermented flour with water. The yeast bacteria feed on the starch from the flour and produce gas, making your dough rise naturally. The lactobacilli are probiotic bacteria known for the health benefits of improving your intestinal flora and giving the sourdough bread its slightly sour flavor.
If you have, like me sometimes a difficult work schedule that does not permit you to bake every week, you can also make bigger batches of bread and freeze it. Also, if you are just two people at home and don't eat bread every day it is maybe a good idea to freeze some bread you make. We just cut the baked bread in half or quarters and put it in the freezer. You just pull out a piece of bread from the freezer the night before or just defrost it in the oven in the morning – like that you can have always delicious fresh whole grain sourdough bread.
If you don't have a sourdough starter yet, see my recipe how to make one from scratch.
Some things to keep in mind
Use bottled water because tap water can contain a lot of chlorine, which can impede fermentation of whole grain sourdough bread.
The type of flour you use makes a difference to the taste and the outcome of your whole grain sourdough bread. In this recipe, I use a mixture of white wheat flour, whole grain wheat flour, and whole grain spelt flour. I would advise you to buy white bread flour and not all-purpose flour because it has a higher protein percentage, which helps you to develop more gluten/strength in your dough. If you can't find whole grain spelt flour you can substitute it for whole-wheat flour instead.
Temperature is important. Try to work always with a thermometer because the difference in temperature influences the outcome of your bread.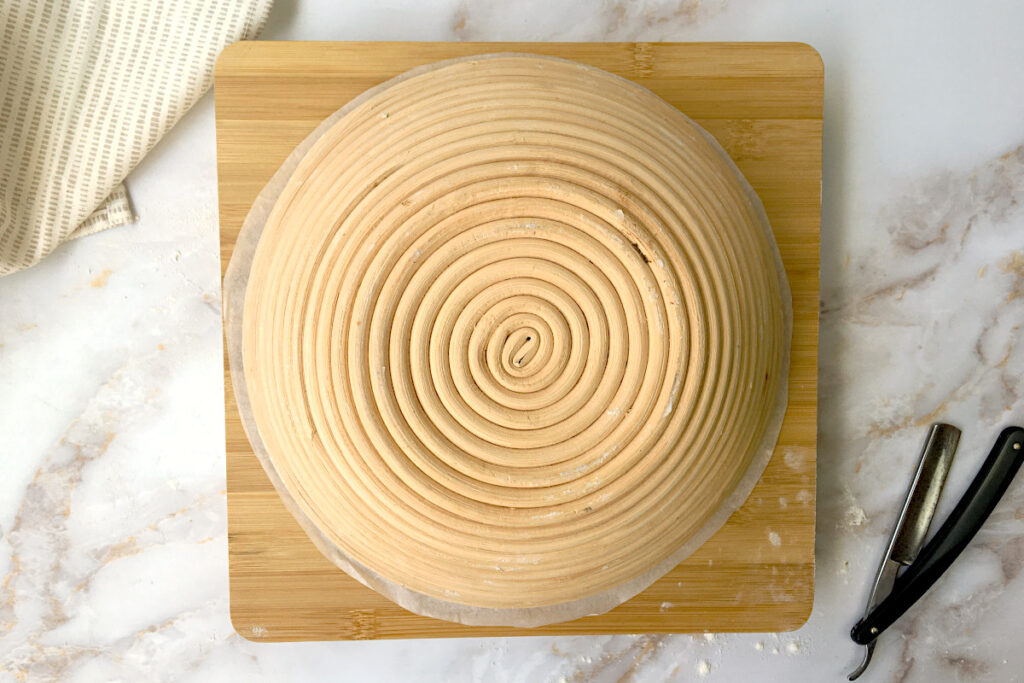 Time Schedule
The time schedule of bread baking is important because bread dough needs certain times to develop its qualities. To make whole grain sourdough bread with a long overnight fermentation must be planned ahead so it combines with your daily routine. You will find the time schedule also in the recipe but you can change the schedule as long as you keep the same time periods.
08:00 a.m. – Feed Your Starter
02:00 p.m. – Autolyse (In the Autolysis Process, only flour and water are mixed. It increases the extensibility in the dough and initiates the enzymatic activity that helps to draw out sugars from the flour.)​​
03:00 p.m. – Mix everything, start Bulk Fermentation
06:00 p.m. – Divide, Preshape, let rest on the bench
06:20 p.m. – Final Shape, put in a proofing basket, start Proof in fridge
The next morning – Bake your whole grain sourdough bread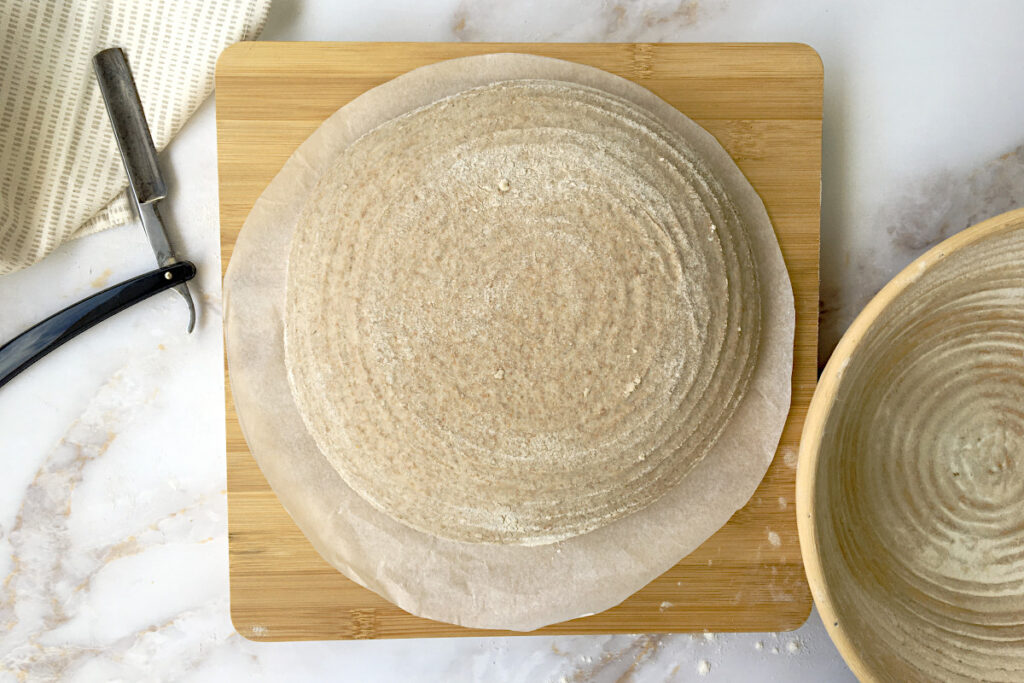 Note: Most recipes ask you to build up a leaven from your starter to use for your baking. A leaven means you build a sourdough culture with the help of your starter to use in the final recipe of the whole grain sourdough bread.
In my recipes, I use my regular sourdough starter as a ferment. After you used the quantity of starter you needed for the recipe, you only feed your starter again, discarding everything besides the maintainer.
To understand the recipe better, you can find the step by step in images below the recipe.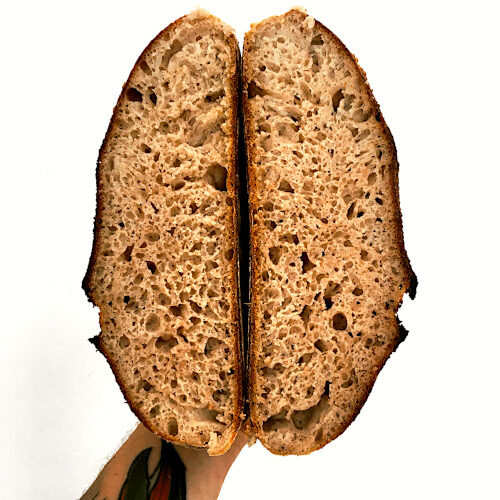 Recipe for Whole Grain Sourdough Bread
This is my favorite sourdough bread recipe with whole-grain flour. It makes an amazingly tasty bread loaf with intense and nutty flavors. Using whole grain instead of white flour will always produce a somewhat smaller and denser loaf because the bran of the grain cuts through the gluten. But on the other hand, you will get a much deeper and more intense taste of grain, and this high fiber sourdough loaf is even more healthy than white bread.I usually make the double recipe because it is nearly the same work, and you get two loaves. You can give the second loaf to somebody, or you can keep it in your freezer. All you have to do is double the ingredients the recipe stays the same.
Equipment
kitchen scale

dutch oven

proofing basket

thermometer

bench knife

sharp knife or razor blade

fine sieve
Ingredients
200

g

whole wheat flour

whole grain

200

g

spelt flour

whole grain

50

g

white wheat flour

bread flour

370

g

water

bottled

12

g

salt

80

g

sourdough starter

some rice flour

for dusting
The Steps in Images
Sieve out the bran
02:00 p.m. Autolyse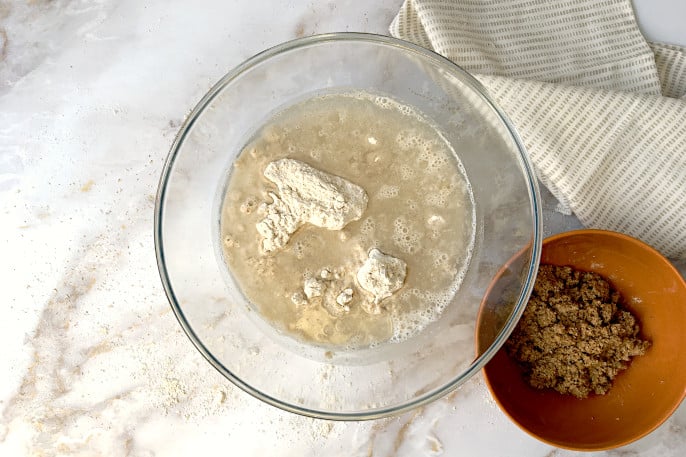 03:00 p.m. Mix the final dough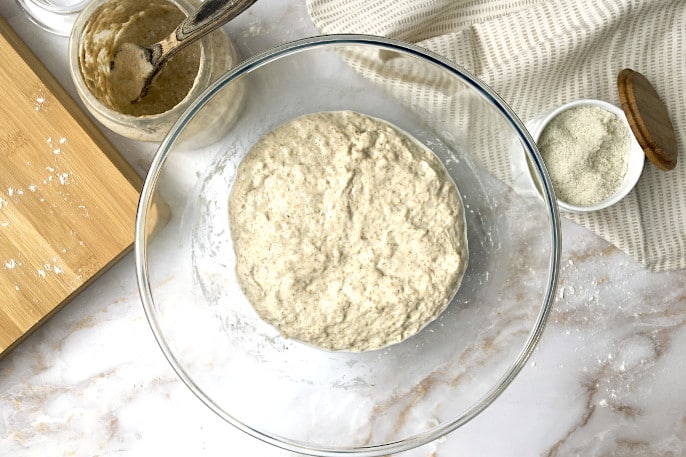 03:30 p.m. Bulk Fermentation / Folds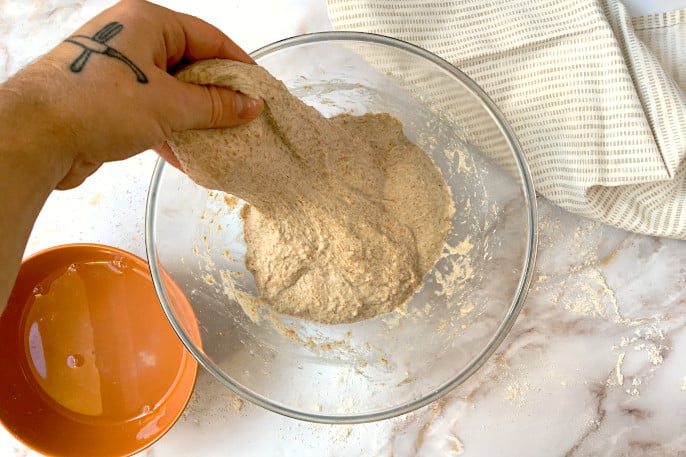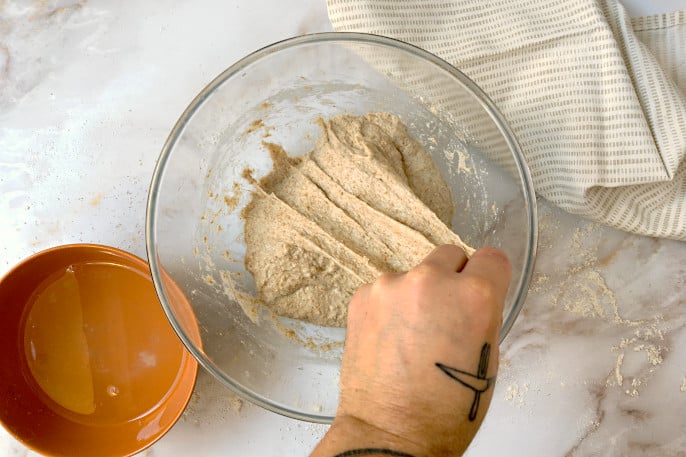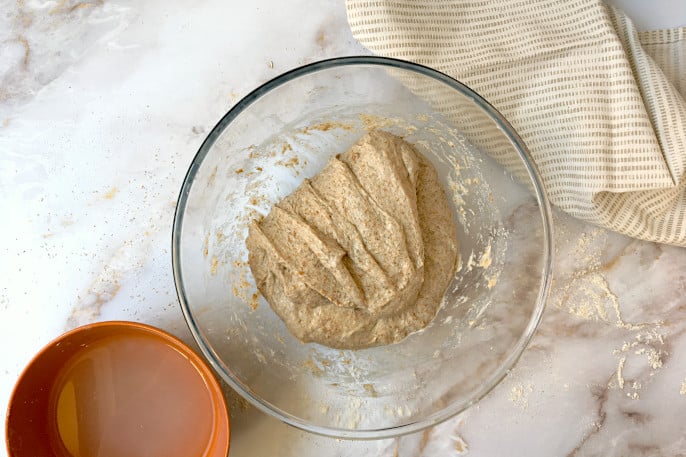 06:00 p.m. Pre-Shape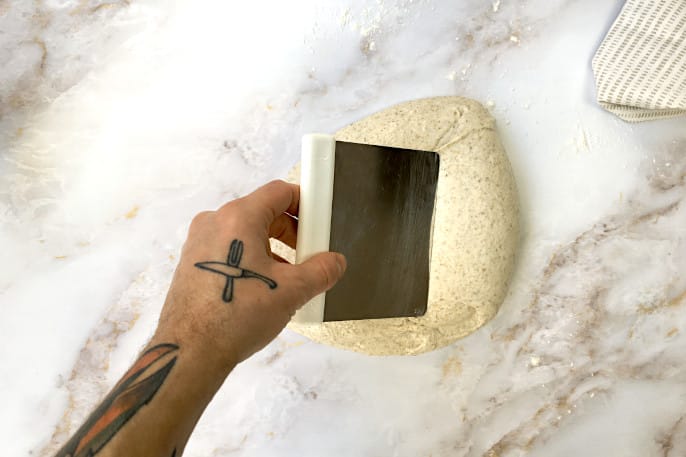 06:20 p.m. Shape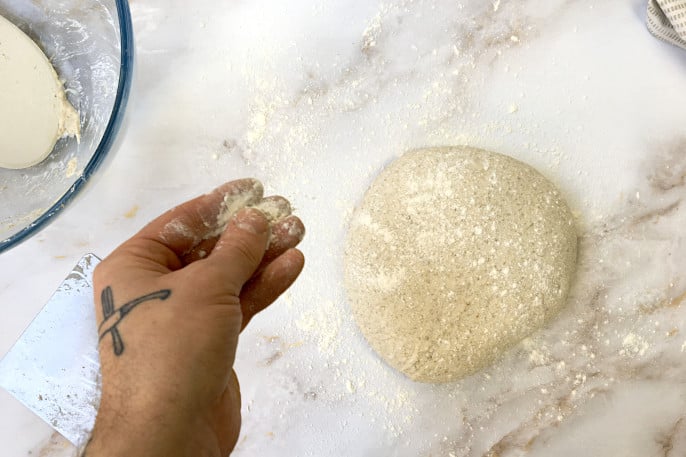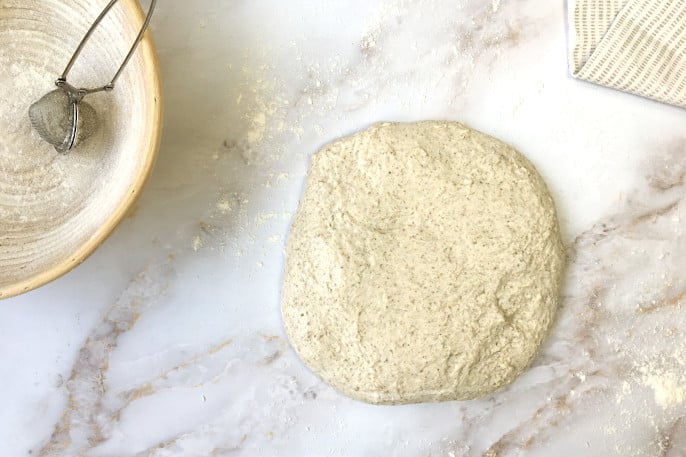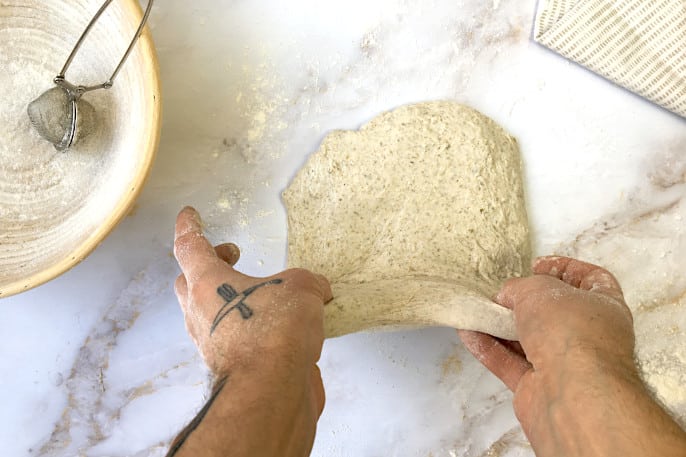 06:30 p.m. Proofing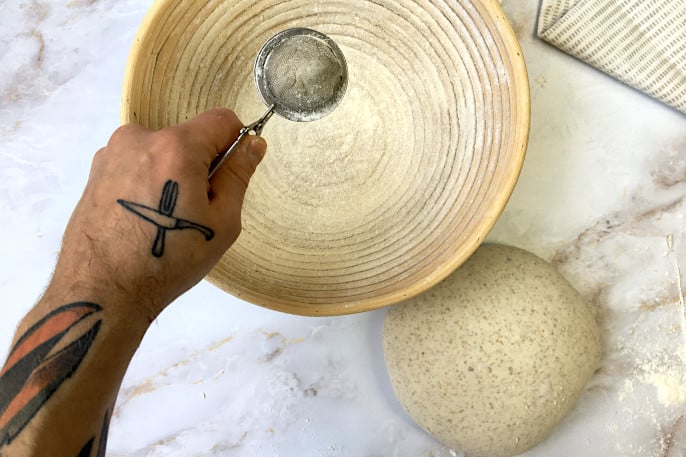 The next morning – Baking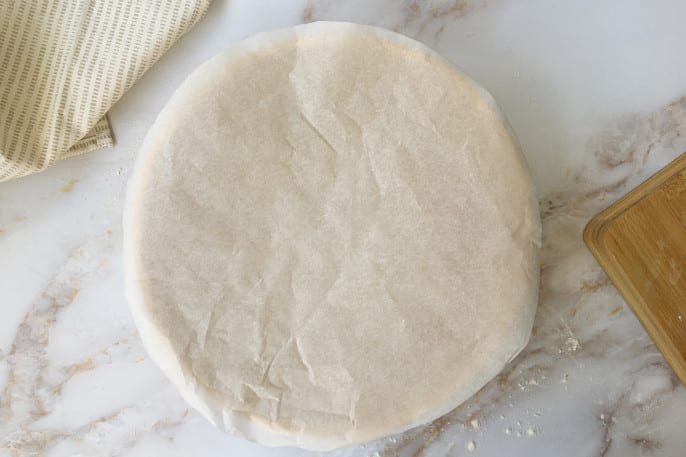 Other amazing Websites to learn about Whole grain Sourdough Bread Baking
Through the years, I gained some experience with baking and how to handle sourdough, but there are many people out there that for sure understand a lot more than me. I have big respect for these people, dedicating their time to this vast subject. These blogs and websites helped me to learn and understand better most of the things I know today. So if the Information on my site is not enough or you simply want to dive deeper into the world of bread, I hope you enjoy the following links.
www.theperfectloaf.com
A website dedicated to baking sourdough bread in your home kitchen. Its mission is to help others bake healthy, naturally leavened sourdough bread right from home using a wild yeast starter. Maurizio Leo @food52's Resident Bread Baker. Helping others bake sourdough bread.
www.thefreshloaf.com
The Fresh Loaf, a community for amateur artisan bakers and bread enthusiasts! Its mission is to share the love of bread: recipes, lessons, reviews, and so on.
www.breadtopia.com
At Breadtopia you will find video tutorials; recipes; premium baking ingredients, Breadtopia-branded heirloom grains, flours, and sourdough starter; hand-picked, high-quality baking gear and supplies; and access to the friendliest, most dedicated baking community you could ever hope to meet.
www.foodgeek.dk/en
A Blog not only about baking but with a lot of information and great experiments about sourdough – check out the YouTube channel for amazing videos.