A vegetarian tartare – vegetables in the fast lane
The market for vegetarian meat substitutes is booming! But we often forget how diverse and rich the range of vegetables is. Unfortunately, we are still not used to cook with vegetables and for a lot of people vegetables are just a side dish and sometimes don't go far beyond potatoes and a few lettuce leaves.
Vegetarian dishes are trendy, and even well-known gourmet restaurants are switching completely to vegetables. For example the 3-star restaurant "Eleven Madison Park" in New York, which has switched its kitchen to completely vegetarian.
I want to help you expand your repertoire of vegetarian recipes and show you how sexy vegetables can be. What could not be more obvious than a vegetarian tartare?
Due to its high vitamin B, potassium, iron and especially folic acid content, beetroot in its various colors and shapes is a very valuable and healthy vegetable. But beetroot is not only healthy, it is also extremely tasty and suitable for a wide variety of preparation methods, as well as perfect for a vegetarian tartare.
In this vegetarian tartare recipe we combine red and yellow beets with an orange sphere, Parmesan cream, sourdough crackers and cashew nuts. The Parmesan and sourdough combine perfectly with the beetroot and bring a full-bodied flavor, while the orange adds a refreshing citrus note.
If you don't feel like making a molecular sphere or don't have sourdough at home, you can of course just make a vegetarian tartare from beetroot. But in order to surprise your guests with something new, I would definitely recommend trying the orange spheres with the vegetarian tartare , which are really not complicated if you follow the instructions.
Recommended for you: Recipe for Vietnamese summer rolls
A healthy diet with more vegetables
Little by little, our thinking is changing and must also change if we want to turn our future on this planet into a success story. Few people doubt that we cannot just continue as before as if nothing had happened.
Factory farming is very profitable and profit-maximizing for a few, but the negative consequences for the environment and of course the animals are largely known. The health consequences for us humans are also known from numerous studies.
In order to change something, it is not enough just to switch to organic farming and take care of the wellbeing of the animals in farming. We also, as individuals, have to get used to simply eating less meat per person.
As part of a healthy diet, according to nutritionists, a small amount of meat can facilitate the supply of vital nutrients. Eating in an ecologically sustainable way means eating mainly plant-based foods.
If you want to read more about sustainable nutrition and a healthy diet, you can read the recommendations of the WHO (https://www.who.int/news-room/fact-sheets/detail/healthy-diet) or just skip this and go straight to the recipe of the vegetarian tartare 🙂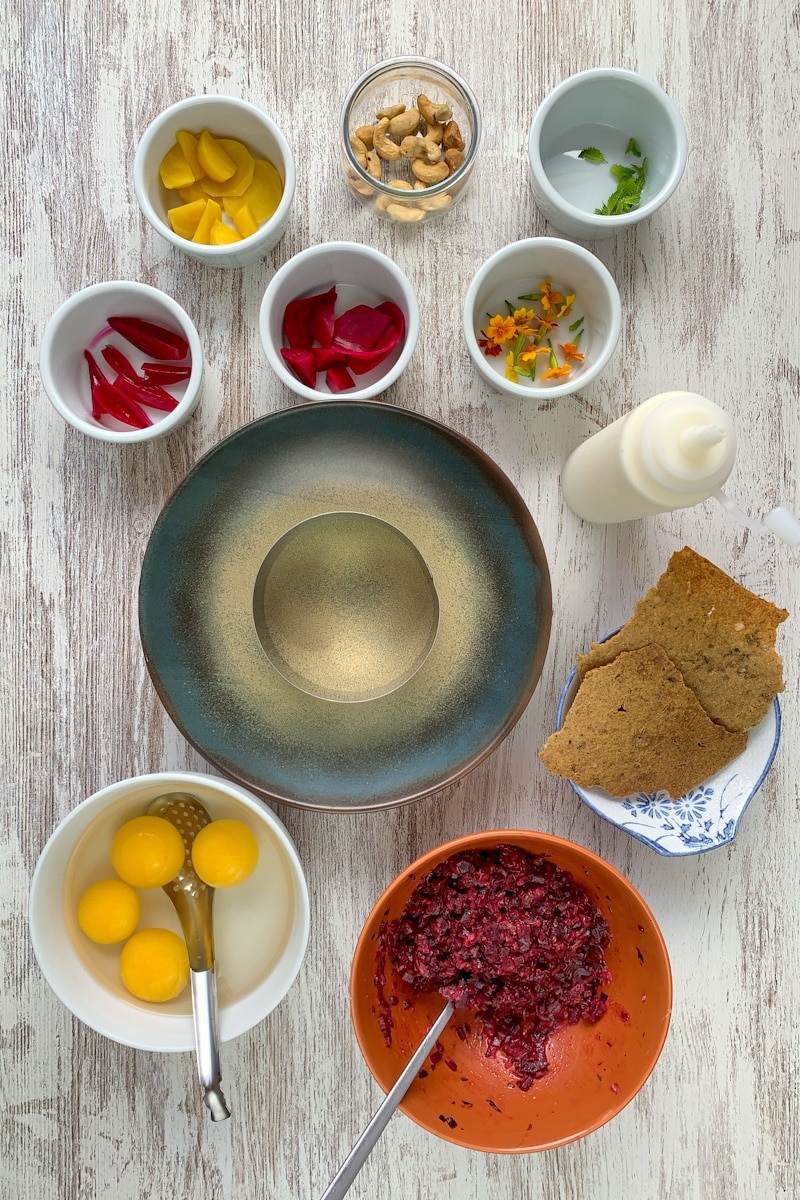 Molecular cuisine and one of the most famous components – the molecular spheres
The representatives of the molecular kitchen are asking themselves how we can use biochemical tools to transform our food into other forms or states of aggregation. Probably the best known among the top chefs who made molecular gastronomy world-famous is the Spanish chef Ferran Adrià. In his restaurant "El Bulli" on the Spanish Costa Brava, for years he did not offer any classic dishes, only those that were spectacularly modified with natural additives.
One of his most famous dishes is arguably the "fake olive" that has been copied thousands of times by chefs around the world. With the help of natural food additives, a gelled capsule "sphere" is formed that resembles a real olive and contains liquid olive puree inside. This sphere bursts in the mouth and gives a special taste experience, which also surprises with the changed texture.
One of the components in our vegetarian dish is the "false egg yolk". What looks like an egg yolk, as found in a classic beef tartare, is actually a molecular sphere made of orange juice.
The technology behind it is really simple and does not require any special knowledge, you just have to use the right ingredients. To create a classic molecular sphere you need two ingredients – alginate and calcium chloride. Mix the main ingredient with alginate and then form the spheres in a bath with calcium chloride. This method is best when the spheres are consumed directly and do not need to be kept for too long.
For easier preparation, the indirect "reverse" spherification is mostly used nowadays. In this case, you mix the main ingredient with calcium chloride and then form the spheres in a bath with alginate. However, because calcium chloride is slightly bitter when consumed, calcium lactate is used instead.
All of these ingredients may sound strange, but they are completely natural additives that you can find as food additives in a wide variety of products in the supermarket.
In this recipe we use indirect spherification, and we also freeze the spheres beforehand in hemispherical silicone molds to give them the perfect shape. This makes the preparation even easier, and anyone can create a perfectly shaped molecular sphere.
The only thing that needs to be considered is the exact quantity, so it is advisable to use a precision balance. As almost always in the kitchen, the amount is decisive and the proportion or percentage of an ingredient can be converted to any amount.
In our case with indirect spherification in the molecular kitchen, the following proportions must be observed. Calcium lactate must be at least 2% of the mixture with the main ingredient. In order to produce the alginate bath, the proportion of alginate must be 0.5% of the water.
False egg yolk made from orange juice
Sourdough crackers – a simple and quick recipe for your sourdough discard
Anyone who regularly bakes with sourdough at home knows this problem. What to do with the sourdough excess or "discard" after you have fed your sourdough. It's best to keep your surplus sourdough in a mason jar in the refrigerator. When a certain amount has been reached, one of the numerous recipes can be made.
One of our favorite recipes are sourdough crackers. They are not only the easiest and fastest sourdough recipe, but are also extremely digestible and always welcome as a snack or side dish and go perfectly with our recipe for a vegetarian tartare.
Quickly spread on a silicone mat or baking paper and put in the oven. You can try out this recipe with a wide variety of flavors. Just get creative and combine it with everything you like – garlic, sesame, chilli, smoked paprika powder, furikake, curry powder, … and the combine great with the vegetarian tartare
Here you can find further recipes on the subject of sourdough leftover utilization
Recipe for Beetroot tartare with fake egg yolk and sourdough crackers
Not only is a vegetarian tartare a real treat and a refreshing dish in summer, it is also part of the current trend to consume more vegetables.
I'll show you a recipe for a beetroot tartare with a false egg yolk. You can find out what this interesting component from the molecular kitchen is all about below.
You will also find another recipe if you like to bake with sourdough at home and don't know what to do with your excess sourdough. Delicious sourdough crackers, of course!
Equipment
kitchen scale

fine sieve

hand blender

silicone mat or baking paper (for sourdough crackers)

molecular spoon (for molecular sphere)

Hemisphere silicone mold (2 cm depth / approx. The size of an egg yolk) (for molecular sphere)

Squeeze bottle with screw cap (to plate the Parmesan cream in dots)
Ingredients
Tatar von der roten Bete
120

g

beetroot

cooked and peeled (approx. 2 large beetroot)

10

g

shallots

1 shallot

10

g

capers

about 1 tbsp

5

g

Dijon mustard

about 1 tsp

10

g

olive oil

about 1 tbsp

10

g

white wine vinegar

about 1 tbsp

20

g

creme fraiche or sour cream

about 2 tbsp

1

pinch

salt

pinch

freshly ground black pepper

pinch

cayenne pepper
Pickled beetroot, yellow beetroot, shallots
1

beetroot

raw

1

yellow beetroot

raw

2

shallots

240

g

rice wine vinegar

otherwise other vinegar such as apple or white wine

60

g

honey

90

g

water

1

pinch

salt
Parmesan Creme
200

g

milk

150

g

Parmesan cheese

10

g

corn starch

1

pinch

salt

pinch

freshly ground black pepper

pinch

ground nutmeg
Sourdough crackers
200

g

sourdough "discard"

20

g

olive oil

1

pinch

salt

pinch

freshly ground black pepper

pinch

dried oregano
Molecular orange sphere (approx. 8 spheres)
250

g

fresh pressed orange juice

0,5

g

salt

1

g

xanthan gum

5

g

calcium lactate

1

l

still mineralwater

or chlorine-free tap water

5

g

alginate
Others
cashews

orange blossom

or other edible flowers

Mint leaves

or cress
Instructions
Molecular orange sphere (prepare the day before)
Squeeze out 250g orange juice and filter through a fine sieve so that it does not contain any pulp.

Add 5g calcium lactate, 1g xanthan gum and 0.5g salt.

Blend for a few minutes until the calcium lactate and xanthan gum are well dissolved and mixed in the liquid. (The liquid thickens slightly and should not have any lumps).

Fill the mixture into the hemisphere silicone molds and place in the freezer overnight.

For the alginate bath, mix 1l of water with 5g of alginate and mix until no more powder can be seen and the water thickens and becomes cloudy. Cover and store in the refrigerator overnight so that the air bubbles disappear from the liquid and the mixture becomes clear again.
Molecular Orange Sphere (The Next Day)
Prepare the alginate bath, two bowls of water and the molecular spoon.

Remove the hemispherical orange spheres from the silicone molds and put them directly into the alginate bath (only add 3 at a time to have better control). Leave the hemispheres in the angina bath for about a minute and keep moving them during this time.

After about a minute, lift the hemispheres out of the alginate bath with the molecular spoon and add them to the first bowl of water to stop the gelling process and wash off excess alginate. Carefully move the spheres with the molecular spoon.

Then add the sphere with the molecular spoon to the second bowl of water to store them. The orange spheres can be kept in the water in the refrigerator for a few days.
Pickled beetroot, yellow beetroot, shallots: (preferably the day before to develop more flavor)
Mix the rice wine vinegar with the honey, the water and the salt and bring to the boil.

Cut the raw beetroot and the yellow beetroot into thin slices with a potato peeler, a mandolin or a knife. Cut the piece that is left over into fillets or small pieces to use everything.

Halve the shallots and remove the individual leaves.

Divide the pickle liquid. Place the yellow beetroot in one half and the beetroot and shallot leaves in the other half.
Beetroot tartare
Cut the cooked beetroot into small cubes (about 5mm)

Cut the shallot into fine brunoise and finely chop the capers.

Mix all the ingredients for the tartare in a bowl and season again as required.
Parmesan cream
Mix the milk with the cornstarch and the spices and bring to the boil in a small saucepan.

Meanwhile, cut the parmesan into small pieces.

When the milk starts to boil, simmer for about 2 minutes to reduce the cornstarch and stir constantly so that nothing sticks to the bottom of the pot.

Remove the mixture from the heat source and stir in the parmesan. Mix with a hand blender to a homogeneous cream.

Allow to cool (with a cling film in contact with the surface so that no skin forms on the cream)

If lumps have formed, mix again and, if necessary, pass through a fine sieve.

When the parmesan cream has cooled down completely, pour it into the squeeze bottle. If you don't want to make dots with it, just keep it in a small bowl and spread it on the plate when serving.
Sourdough crackers
If you bake with sourdough at home, there is always a bit of sourdough left over. You can keep this "discard" in a mason jar in the refrigerator instead of throwing it away.

Preheat the oven to 160 °C.

Mix the sourdough "discard" in a bowl with the olive oil.

Spread this mixture thinly with a spatula on a silicone mat (if you don't have one, you can also use baking paper).

Sprinkle with salt, freshly ground black pepper and dried oregano.

Bake in the oven at 160 °C for about 25 minutes on the middle rack until it turns golden brown.

Remove from oven and allow to cool.