About Brazilian Cheese Bread – Pão de Queijo
This is one of my favorite snacks from Brazil and most famous in the state of Minas Gerais. Normally the Brazilians eat Brazilian Cheese Bread, called Pão de queijo in Portuguese, as a snack for breakfast or to accompany a cup of coffee in the afternoon. But for me, it also works great to serve something different for your friends before dinner or at a party. Also, if you are just tired of your regular popcorn or potato chips for your film night with your loved ones, this recipe will add some new flavor.
Also, Brazilian cheese balls or Brazilian Cheese bread, are a perfect gluten/wheat free snack and great for anyone with celiac or gluten intolerance.
This recipe also works great to prepare in advance and then keep the cheese bread in your freezer. Once they are frozen separately, you can put them together in a bag. I hope you enjoy this recipe, and please send me some feedback how it turned out.
For another perfect snack, try this recipe for Gyozas – delicous japanese dumplings
Necessary Products for Pão de Queijo
It is very important, that you use Manioc Starch for this Brazilian cheese bread – Pão de queijo recipe, and not tapioca flour which can be something different. Also, I recommend you to use the mixture of the two different types of Manioc Starch (sour+sweet) because this makes a big difference in the outcome. So if you really want this snack to be original and the same as you can find in Brazil, see that you get these products.
Note that the links below are affiliate links in which I earn a small amount on each sale (you are not charged over normal price). These small earnings help me to keep my site running. – so thank you!
If you can't find these products in a store near you (sometimes in Latin American or even Asian stores) and you want to find the right product on the internet I show you in an affiliate link below.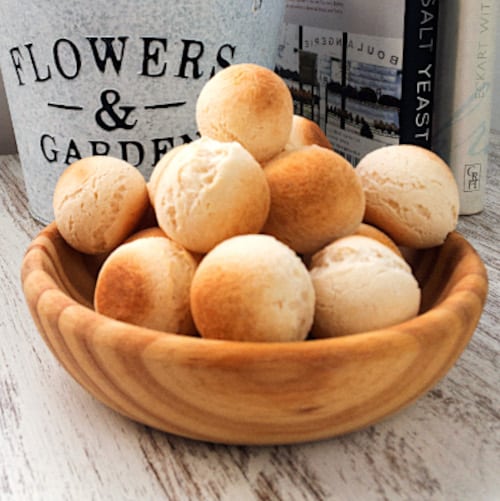 Pão de Queijo – Brazilian Cheese Bread Recipe
One of my favorite snacks from Brazil. It is an easy and quick recipe which does not require a lot of skill. But believe me the outcome is something spectacular.
Equipment
kitchen scale

cheese grater

parchment paper

plastic film

oven
Ingredients
500

g

Manioc starch sour (polvilho azedo)

350

g

Manioc starch sweet (polvilho doce)

400

g

Milk

60

g

Oil (Sunflower)

100

g

Butter

20

g

Fine Salt

4

Eggs

300

g

Cheese
Instructions
Put together in a saucepan the milk, the butter, the oil, the salt and bring to a boil;

Weight the two different types of manioc starch (sweet and sour) and mix them together;

When the milk came to a boil take it from the fire and mix in the manioc starch. Mix well until you can't see any loose starch but the mixture is still a little crumbly;

Brake the eggs in a bowl and mix them with a fork;

Make sure that the manioc mixture is not too hot (you do not want to make scrambled eggs) and mix in the eggs until it becomes a smooth dough. I prefer using my hands to mix everything well. Instead of mixing in your saucepan you can also mix the dough on your countertop;

When the dough is well mixed, wrap it with plastic film and let it cool at ambient temperature;

When the dough is cooled down, mix in the grated parmesan cheese until it is well integrated;

Preheat the oven at 180ºC;

Now you can start rolling your cheese breads. So they get all the same size and cook evenly I suggest you to use your kitchen scale, but that is not a must. The perfect size in my opinion, after experimenting a lot is 10g. When you think that the tough is sticking to your hands, you can rub a bit of oil on your hands while handling the dough. Put the rolled cheese bread on parchment paper with some space in between, because they will still grow a little bit in the oven;

To cook them just place on a tray with parchment paper in the oven and bake them for approximately 15min at 180ªC. Watch them from time to time, depending on your oven they can need a little less or more time. When they start changing their color, they are perfect and you can pull them out – Enjoy them while they are fresh, crispy on the outside and soft and cheesy on the inside;
Notes
The good thing about this recipe is that you can also produce this snack in advance. Once you rolled them into balls, you can freeze them. For this just put the cheese bread on parchment paper in the freezer with a little of space between each other. Later, when they are frozen you can put them together in bags or tuppers to be easier to store.
When you feel like making some Brazilian cheese bread, you just put them frozen directly in the preheated oven on a tray with parchment paper. They will need more or less 20 min to be done.
This is also an amazing snack for people with a gluten allergy